If your company or organization is looking for updated signs or graphics, your local sign shop may be the best place to start. Why should you choose local over "big box" virtual options? Simply put: because we're local business owners, too. We love nothing more than helping the companies and organizations around us succeed!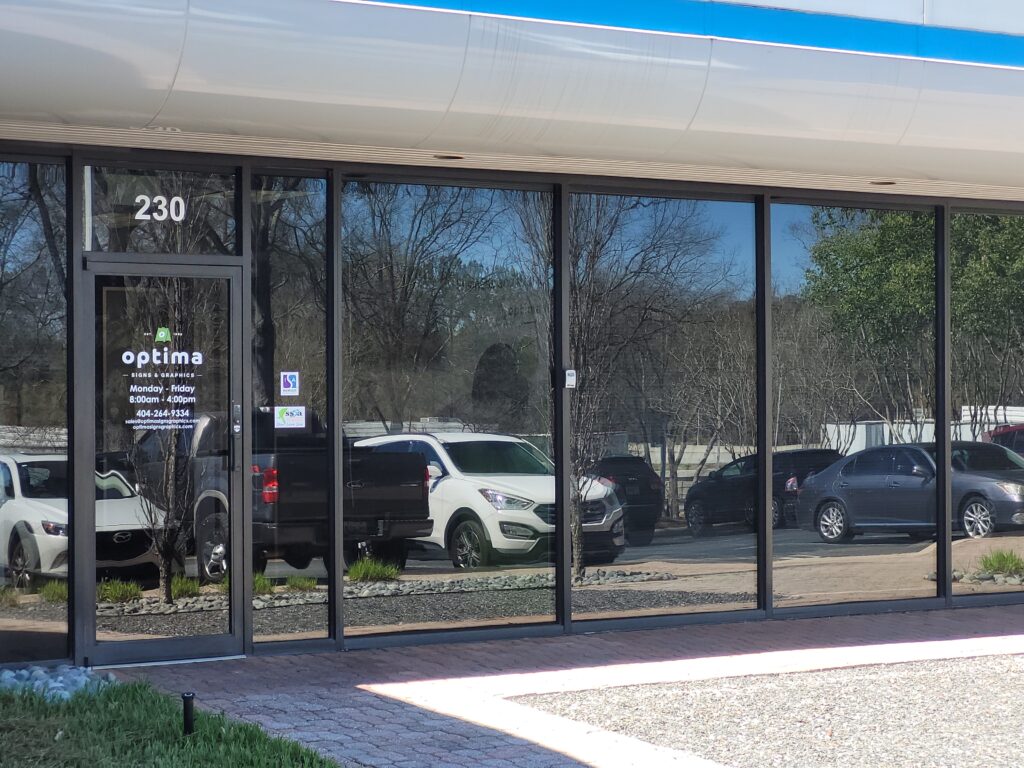 Services Local Sign Shops Offer
At Optima Signs & Graphics, we're proud to be a full-service sign shop. Whatever you need, we can partner with you to bring it to life! We offer:
Need something you don't see on this list? Give us a call. We'd love to hear about it and see how we can help. We've worked with customers on everything from custom metal signs to engraved plaques.
If you're ready to work with us here at Optima Signs & Graphics, here's what you can expect from our partnership.
Providing Files and Artwork
When you work with us, you'll hear this phrase a lot: "It depends on what you need!" We're proud to customize every project based on what works best for you and your business or organization. This is true from the first step — submitting your files and logos to us. We'll do our best to work with what you already have!
If you have small files, like vector graphics, JPEG images, or small bitmap files, you can send them to us via email. Larger bitmap images (25MB or more) that won't fit into an email can be submitted to us directly through our website! You can even stop by our storefront to drop off a flash drive.
When to Send Files
We always want to provide you with an accurate and timely quote, so we recommend sending your artwork as the first step in the signage process. We can help you determine if your existing files are "print ready" or if they'll require design support from our team.
We can often turn lower quality files into true vector files that work for printing of all kinds and sizes! Taking a look at the files you have on hand will help us figure out the best path forward. Once we've received and reviewed them, we'll give you a call to discuss pricing and timeline.
Turnaround and Installation Timelines
It's a common misconception that "big box" sign companies are faster — but we love to bust that myth here at Optima Signs & Graphics! After we receive your project request and your artwork, we'll have your proof ready within one business day. We send proofs for every project, even print-ready files, because we're committed to excellence. We want everything that comes out of our shop to meet your expectations and our standards.
For most printing projects, we can provide you with completed signage as soon as one day after proof! If you need yard signs, banners, basic posters, or coroplast signs, you could submit your files on Monday, approve your proofs on Tuesday, and walk out with your completed signs on Wednesday afternoon. Of course, this timeline can vary depending on how many signs and designs you need, but we strive to be the most efficient sign shop you'll find.
If you're looking for cut vinyl signage, we offer a 2-3 day turnaround time on average. Custom dimensional signs normally take 3-5 weeks to complete, depending on production schedules.
We also offer installation services. Many of our printed materials are "grab and go," but our team can install anything from printed signs to our ready-to-apply custom cut vinyl projects. We also install custom dimensional signs. Want to install it yourself? No problem! But if you need a team who can do it all, we're here to help.
Need a project completed faster than the timelines listed? Give us a call or reach out to us online. We'd be happy to accommodate your schedule if we can. No matter what, you can expect a clear timeline from us, and you can trust we'll meet our deadlines. To us, that's what local partnership is all about.
Creative Direction
We're often asked, "How much direction do we need to give you for our upcoming project?" It's a great question, and once again depends on what you need! We have many customers who come in with a clear vision that's ready to go to print. If that's you, we're happy to accommodate.
However, most of our clients come to us because they want advice about their signage needs. This is one of the perks of working with a local sign shop. You can walk into our storefront and talk to an actual person, explain your goals and desires for the project and get immediate feedback in return.
Our team is well trained and highly skilled in the world of signs and graphics, and we love lending our expertise to your business or organization. We can offer art direction, help you select materials, and dream up custom solutions that will work perfectly for your space and style.
At Optima Signs & Graphics, we want to partner with you on future projects for years to come. Relationships are at the heart of what we do. To get started on your next sign, give us a call or stop in our Marietta, Ga. store to say hello. We can't wait to meet you!