You're sitting behind your desk or your conference room table when it hits you — "We need to do something with that big, blank wall."
In offices, retail spaces, and businesses of all kinds, walls provide valuable real estate. They can serve as the canvas for bold branding, an aesthetic boost, directional information, inspirational quotes, or your company's mission statement and values.
No matter your vision, vinyl wall graphics offer an efficient and effective solution. From custom cut letters to full panel photos, there are a number of options to take your interior walls from boring to branded. We offer a variety of vinyl choices that last on windows, walls and floors for the long haul.
The Vinyl Graphics Process: Start to Finish
Whether you're looking for ideas and inspiration or you're looking for a company to print your in-house designs, make Optima Signs & Graphics your first stop for vinyl graphics. Our team can create a custom design to fit any dimension or shape. We also offer fast turnaround times for printing pre-designed graphics.
Once we've received or created your design, we'll help you determine which vinyl solution is best for you.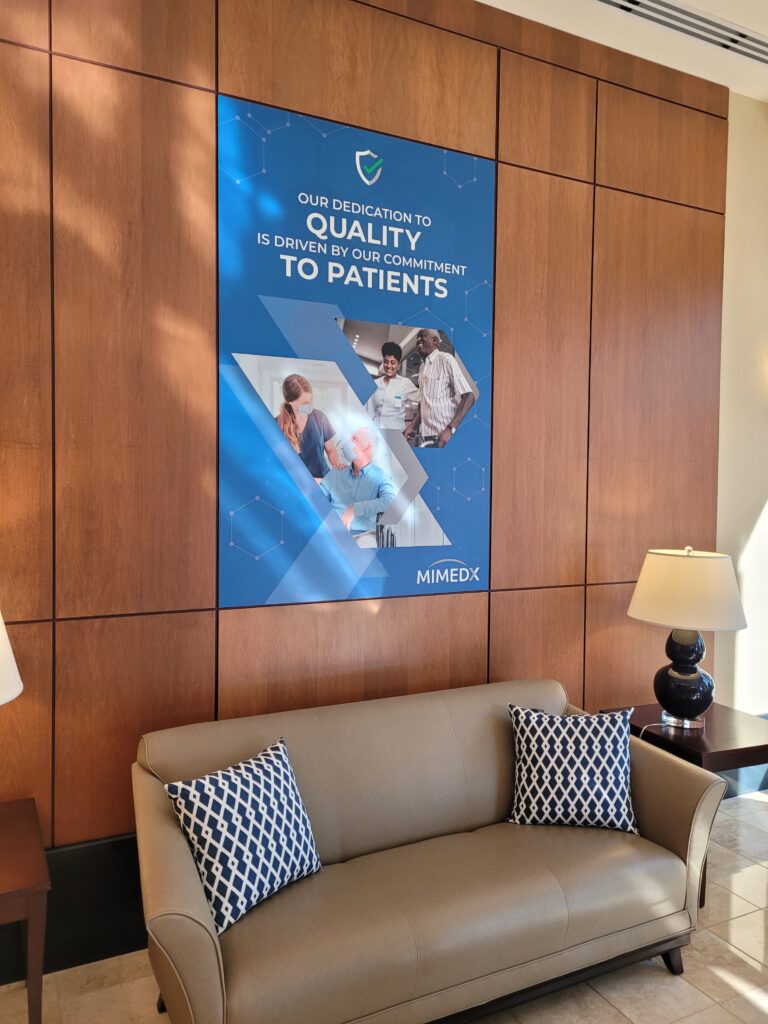 3 Types of Adhesive Backed Wall Materials that We Offer
1. Standard Vinyl
We offer laminated or unlaminated vinyl graphics for projects of all shapes and sizes. This is our most cost effective option, and it sticks to most walls and surfaces with ease. We offer custom vinyl signage for walls of any shape and size, from custom-cut lettering or logos, to large printed wall murals that showcase your branding.
2. High-Tack Vinyl
Want your vinyl lettering or logo to last for a long time – or to stick to tricky surfaces? Our high-tack vinyl just might do the trick. This vinyl type can also be custom cut to fit your needs, from small individual lettering to large printed panels.
3. PhotoTex
PhotoTex is a non vinyl option. It is a printable, adhesive backed, polyester fabric material that will stick to almost anything. It can be removed for up to a decade without causing damage to the surface underneath.
5 Factors to Consider When Selecting Vinyl Graphics
We'll help you select the right adhesive choice for your particular project. Some factors to keep in mind include:
Paint type: Did you know low VOC paints are designed to repel adhesives? Standard vinyl may not stick to certain types of painted surfaces. We'll help you determine which vinyl signage for walls is best for your space.
Paint age: When you're moving into a new space, it's easy to have a to-do list that you want to check off in rapid succession. Unfortunately, vinyl does not adhere to fresh paint. Let your paint cure for at least seven days before adding vinyl graphics to your space.
Removability: Vinyl is designed to stick on surfaces – which is a great thing! But you may not get clean removability when it's time to redecorate or relocate. After vinyl has bonded to the wall, it could bring paint or drywall along with it upon removal. If you need a graphic you can remove with ease, PhotoTex is your best choice.
Budget: We offer adhesive graphics for any budget, but remember that your costs may vary according to your selections and your surface.
Design size: Do you need small, precision-cut custom lettering? Standard plotter vinyl is usually your best bet. Want to display a large photo on an entire wall? PhotoTex or laminated print vinyl wouldbe your best solution. In general, laminated print vinyl graphics work best for custom cut options, while PhotoTex might be the best option for multi-paneled designs.
If you need help figuring out what materials to order, we'd be happy to hop on the phone or plan an in-person meeting in our Marietta storefront! We also highly recommend testing any surface before ordering to ensure that the vinyl type you've chosen will stick without hassle. You can use a vinyl sample to test!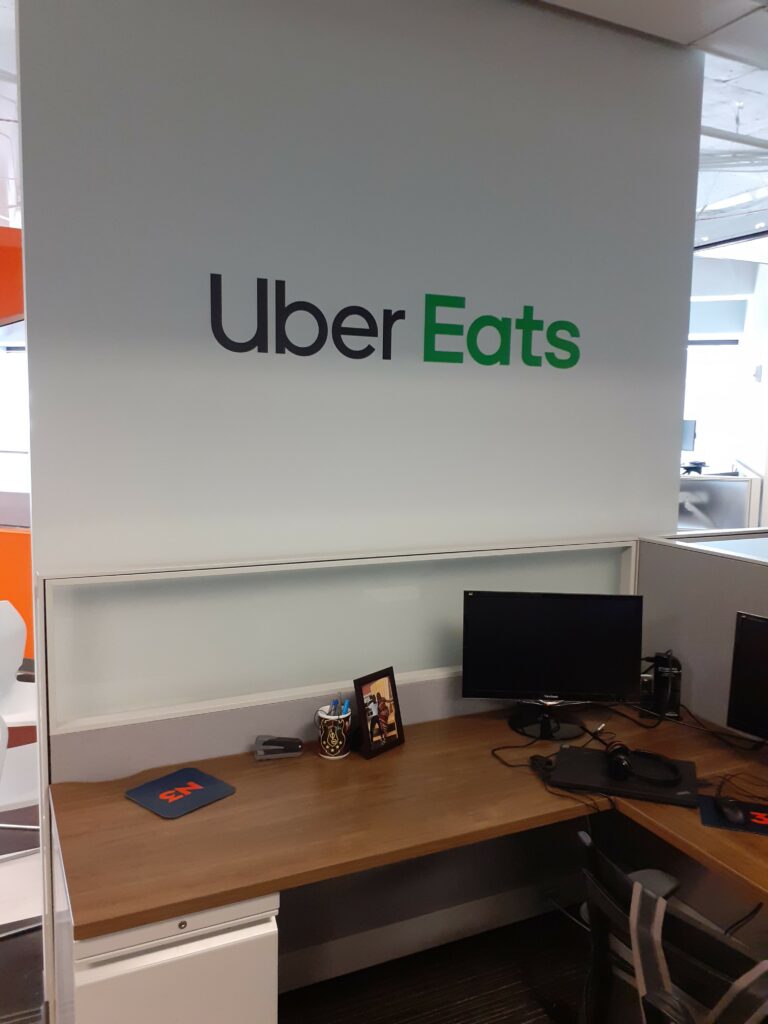 Your Local Partner for Vinyl Decals and Graphics
At Optima Signs & Graphics, we love to provide customized sign solutions for our clients. If you're ready to spruce up your interior walls, windows, or floors with cut letters, paneled photos, or branded graphics, we're here to help.
We want to be your partner through every step of the signage process, from custom designs to fast printing to installation with excellence. Give us a ring, shoot us an email, or stop by our Marietta storefront to see how we can bring your next project to life.