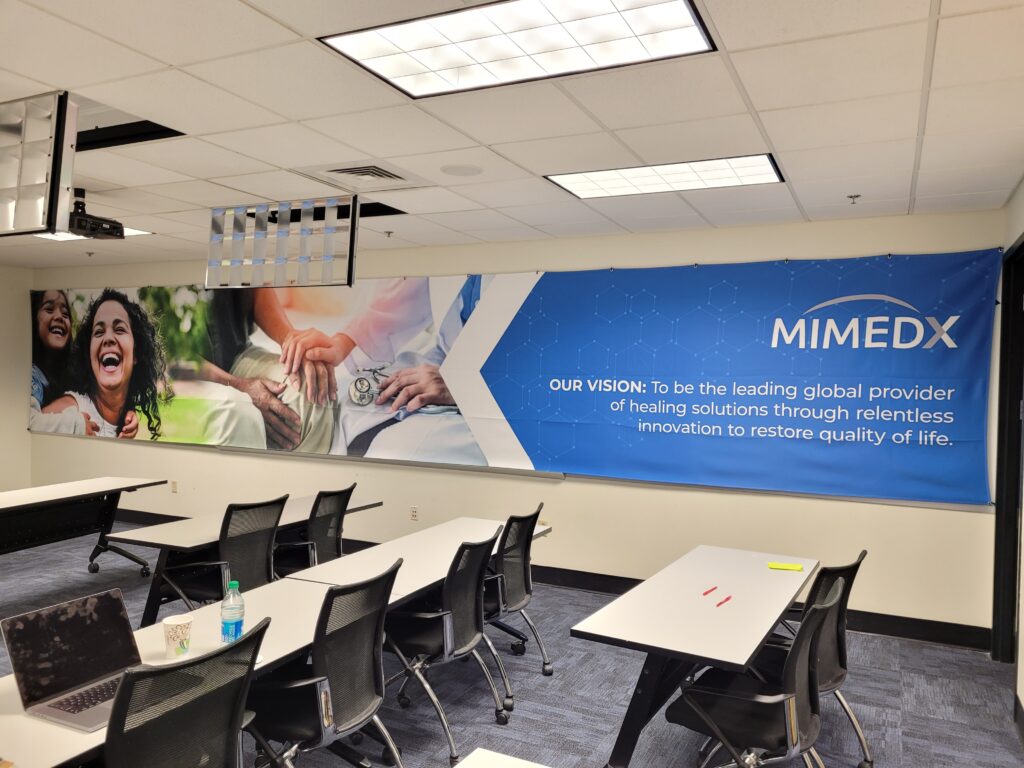 It would be nearly impossible to count the reasons customers walk into our doors needing signage. From charity events to corporate conferences, home renovation sites to office boardrooms, retail stores to hospitals, every place needs a quality sign at some point in time. 
For every reason someone needs signage, there are endless ways to create a functional and beautiful solution. At Optima Signs & Graphics, we offer all types of signs, from permanent metal installations to temporary banners.
Often, we can even help you determine what kind of materials work best for your needs. Many of our projects and installations fall in one of two categories: signs and banners.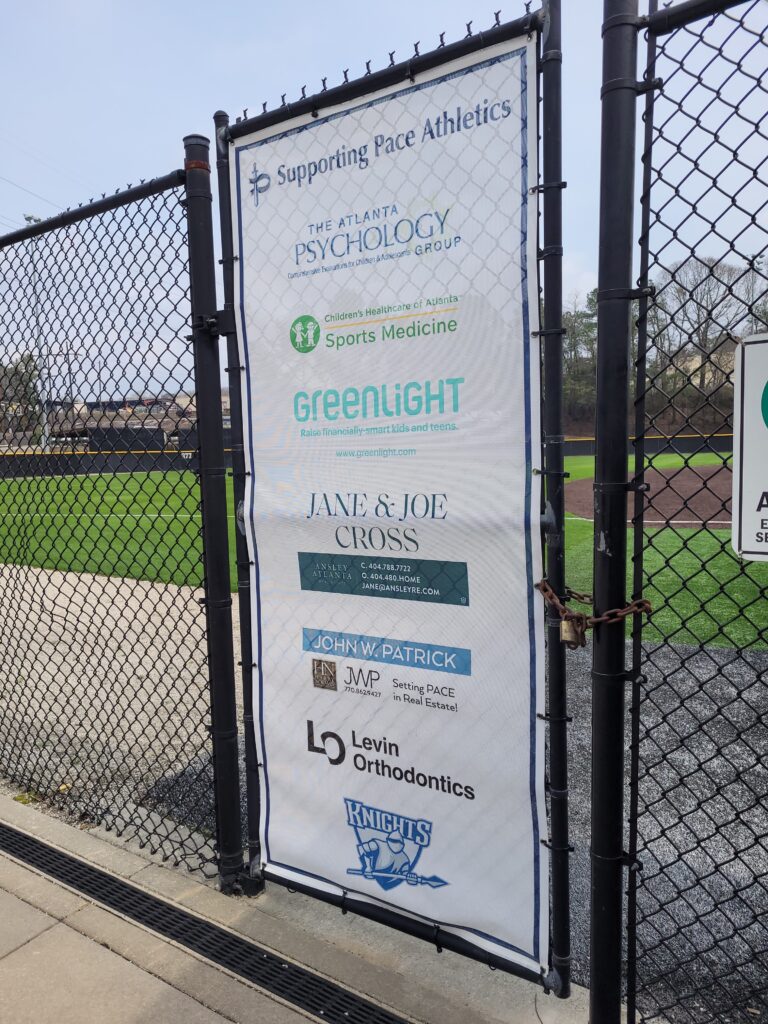 Key Differences Between Signs and Banners
Differentiating between signs and banners can be tricky. We've been known to say, "All banners are signs, but not all signs are banners." In other words, a banner is a type of sign, but generally, banners and signs serve different purposes.
Temporary vs. Permanent
Most signs are installed as permanent fixtures in a space. They're designed to last for years, even decades. Because of this, signs are typically created with text that won't need to change very often. Common sign usage includes business logos, directional signs in a building, and commemorative plaques.
On the other hand, banners provide the perfect temporary solution. Banners can be printed for lower costs with fast turnaround times, making them an expedient option that still provides both professionalism and durability.
Although they are considered "temporary" options, a well-made banner can last for months or even years in the right location!
Flexible vs. Rigid
Signs are created with rigid materials like plastic and metal. This makes them durable, but it also makes them difficult to transport—especially if they're large or heavy!
However, banners are easy to roll up and carry onsite for your event. Because they're created with fabric, vinyl, or mesh, they typically offer easy installation and transportation. We've even had customers carry on banners for a flight!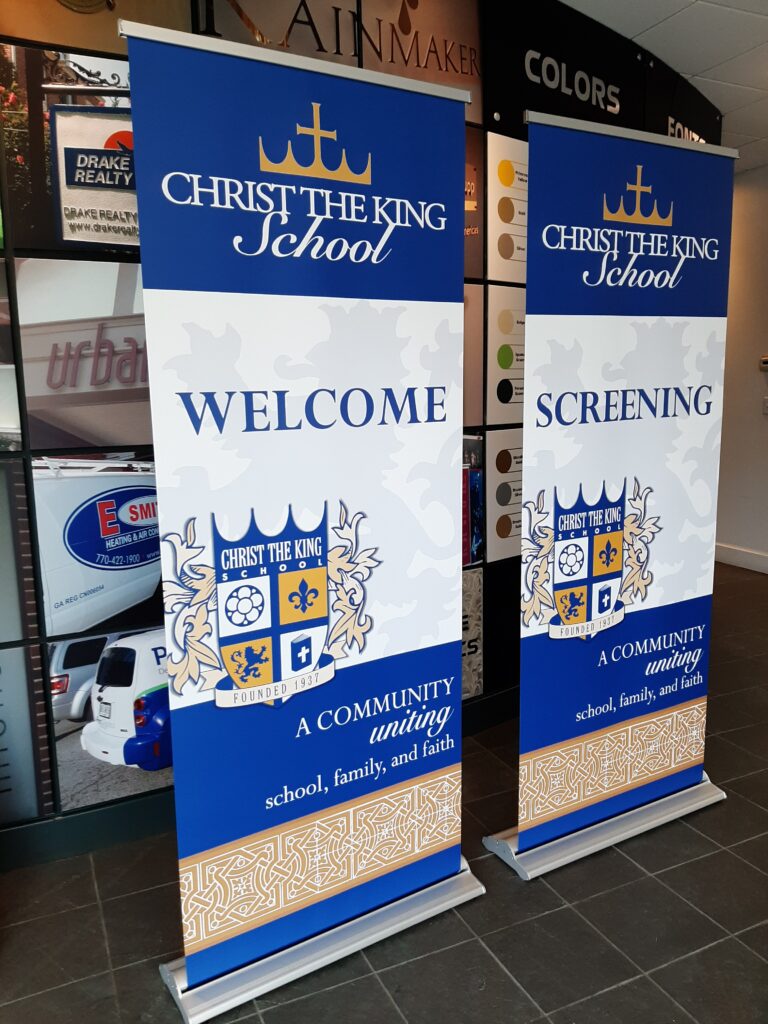 4 Popular Types of Banners
If you're looking for a short or medium term signage solution, banners are a fantastic option. Consider these four types of banners for your upcoming event!
1. Vinyl Banners
Known as the original temporary signage solution, vinyl banners provide the ultimate versatility in both size and design. With reinforced edges and quality grommets, they're durable enough to last through many uses.
Vinyl banners are often used indoors, but they also work well outdoors against a solid surface. With their quick turnaround times, easy transport, and reusability, a vinyl banner might be just what you need.
2. Retractable Banners
If you're looking for a lightweight signage choice with minimal setup and tear down, a retractable banner is the perfect fit. These transportable options are a common choice for trade show vendors, recurring conferences, and other traveling events.
3. Mesh Banners
Want an outdoor signage solution that lasts in the elements without tears and rips? Mesh banners are your best option.
While vinyl banners work well when tethered to a solid surface like an exterior wall, they can be prone to tearing (or flying away entirely!) under adverse weather conditions. Mesh banners solve this problem by providing a place for the wind to flow seamlessly, eliminating pressure build up.
You may have seen mesh banners on construction site fencing, stretched across columns at a church or university, or in open-air outdoor settings like race finish lines or festivals. They function well even in dimensions that would be considered oversized with other materials. Our mesh banners are built with webbing in the hem to withstand an even higher wind load!
4. Fabric
For indoor projects, a fabric banner can offer an aesthetically pleasing solution. One of our favorite recent projects involved creating custom fabric banners with permanent wall hooks to stretch over whiteboards in a conference room.
This allowed easy access to the whiteboards when needed, while still creating a beautiful environment for meetings (without erasing important information!).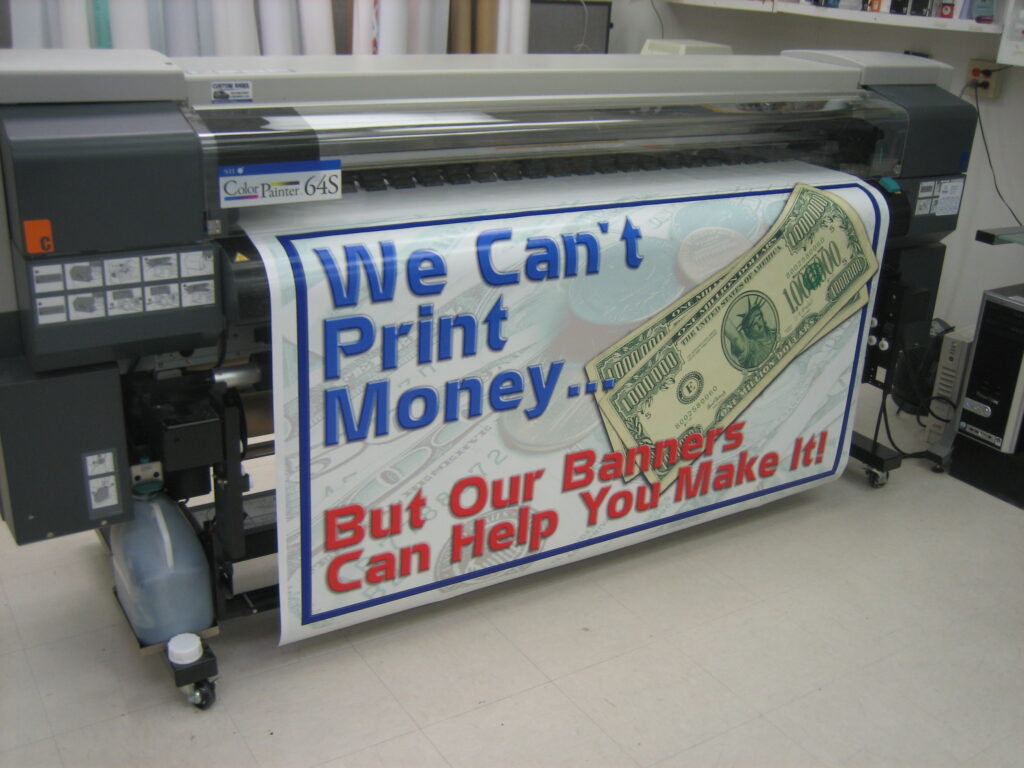 Create Your Custom Signs and Banners
No matter what type of sign or banner you have in mind, Optima Signs & Graphics can help you bring your vision to life.
If you'd like to discuss the best signage solution for your project, give us a call or stop by our Marietta, Ga. storefront. Already know what you need? Start your project online right here for a seamless process.